Register to receive a notification when this item is back in stock
Description
Welcome to the captivating Café Miniature House, a sanctuary of nostalgic charm and learning. As a hands-on DIY project, it offers an engaging experience that stimulates creativity, fosters patience, and sharpens problem-solving skills.
Drawing inspiration from timeless coffee shops, this wooden model serves as a gateway to architectural concepts, blending education with entertainment. Its open layout promotes understanding of design principles, integrating indoor and outdoor elements seamlessly.
But it's more than just a café or a model. It's a portal to tranquil moments away from the world's hustle and bustle. So step into this educational miniature haven, where leisure and learning intertwine. Experience the allure of a premium café from your space, all while honing your crafting skills and spatial awareness!
*Note: Due to customs policy, glue and battery(AAA*2) may not be included in the package. Glue: you could use eco-glue, wood glue or strong glue.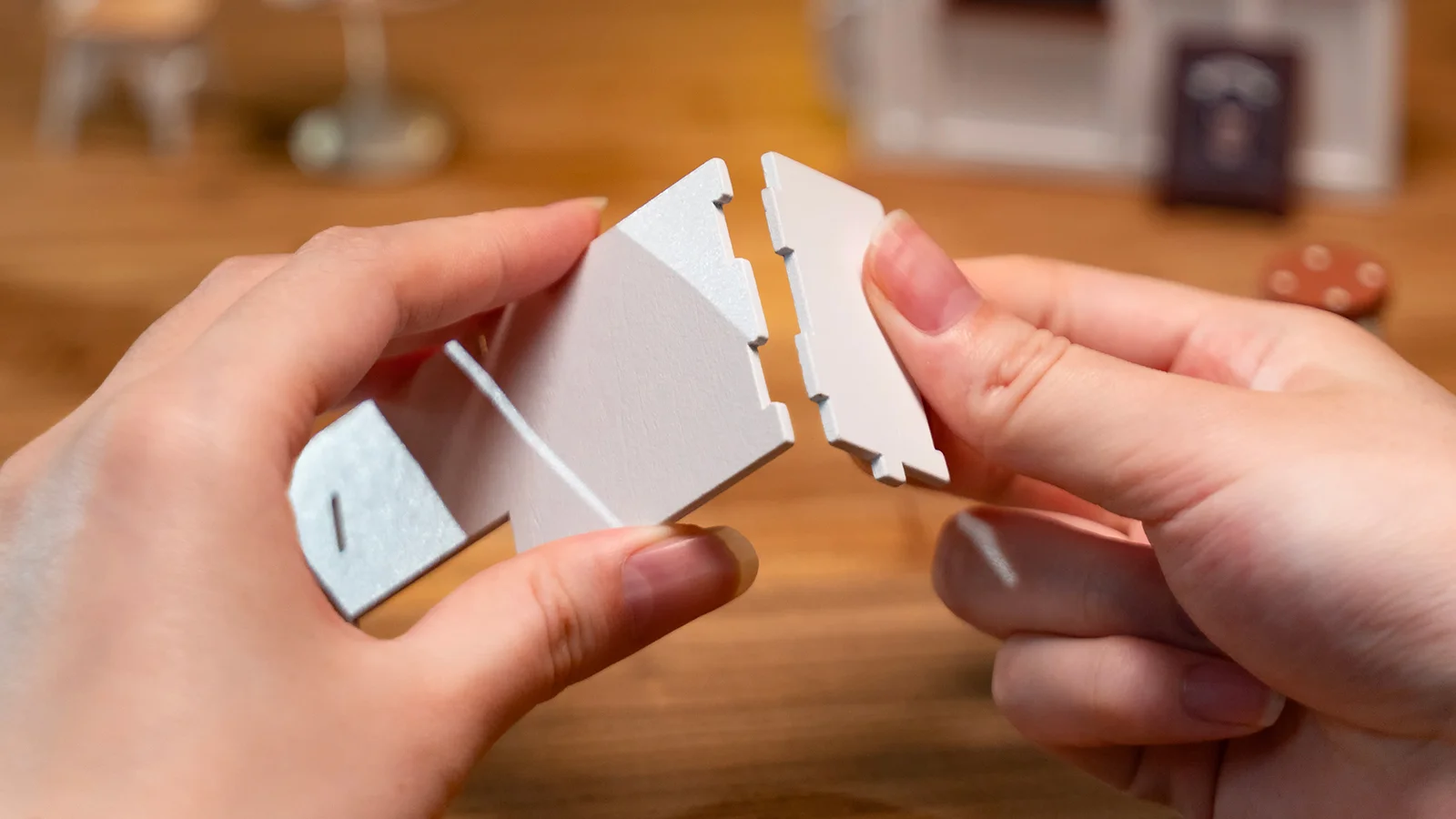 Easy insertion assembly for more fun
This Café Miniature House embraces the art of fast assembly, ensuring that the joy of creation is accessible to all. Build it together with ease, relishing in the excitement of each piece coming together.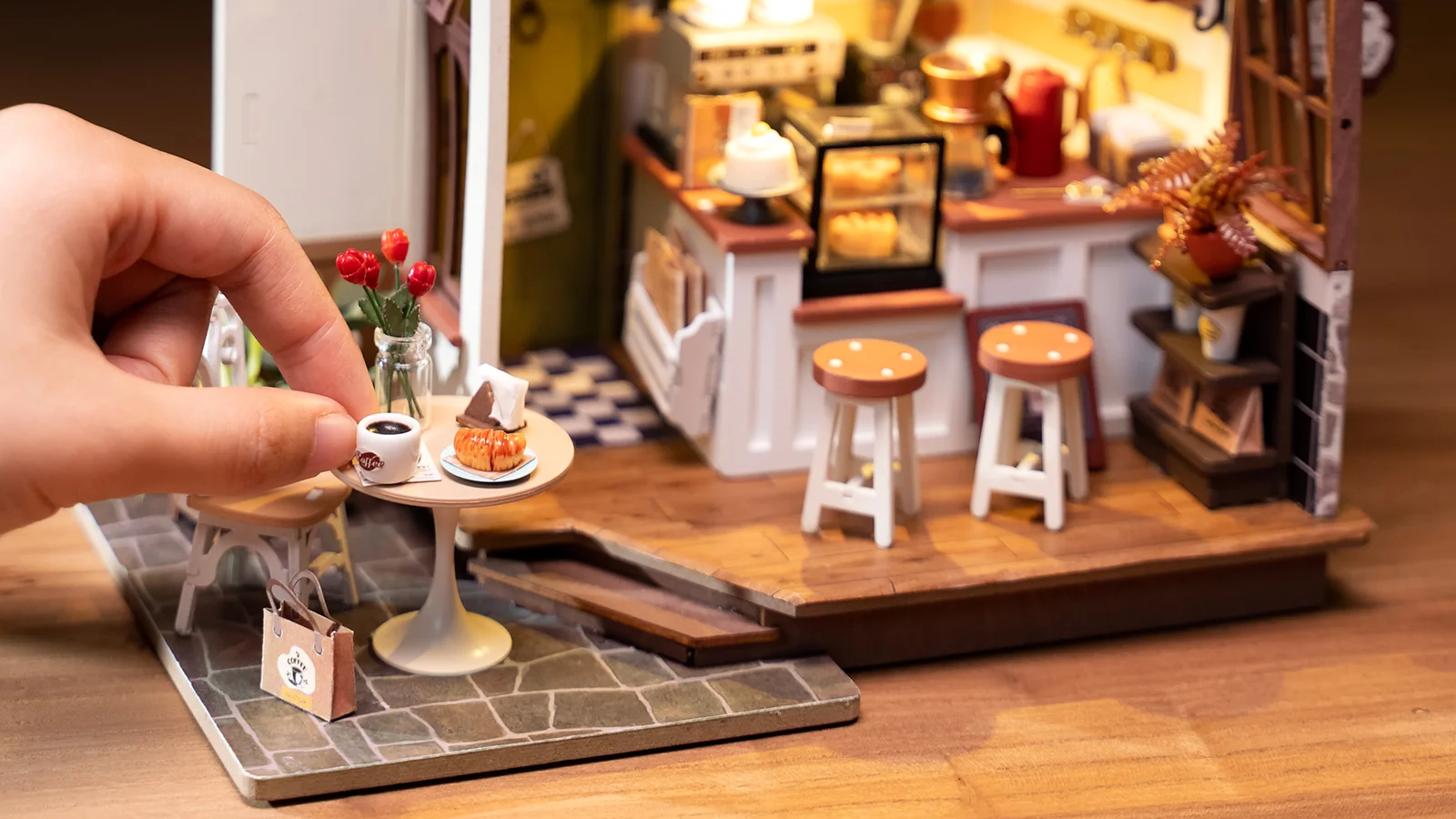 The attention to detail is nothing short of extraordinary.
Every nook and cranny of this miniature haven has been meticulously crafted to evoke a sense of wonder and delight. It offers more than just coffee choices but also a gateway to a world of imagination and creativity as you imagine sitting back and sipping a cup of goodness.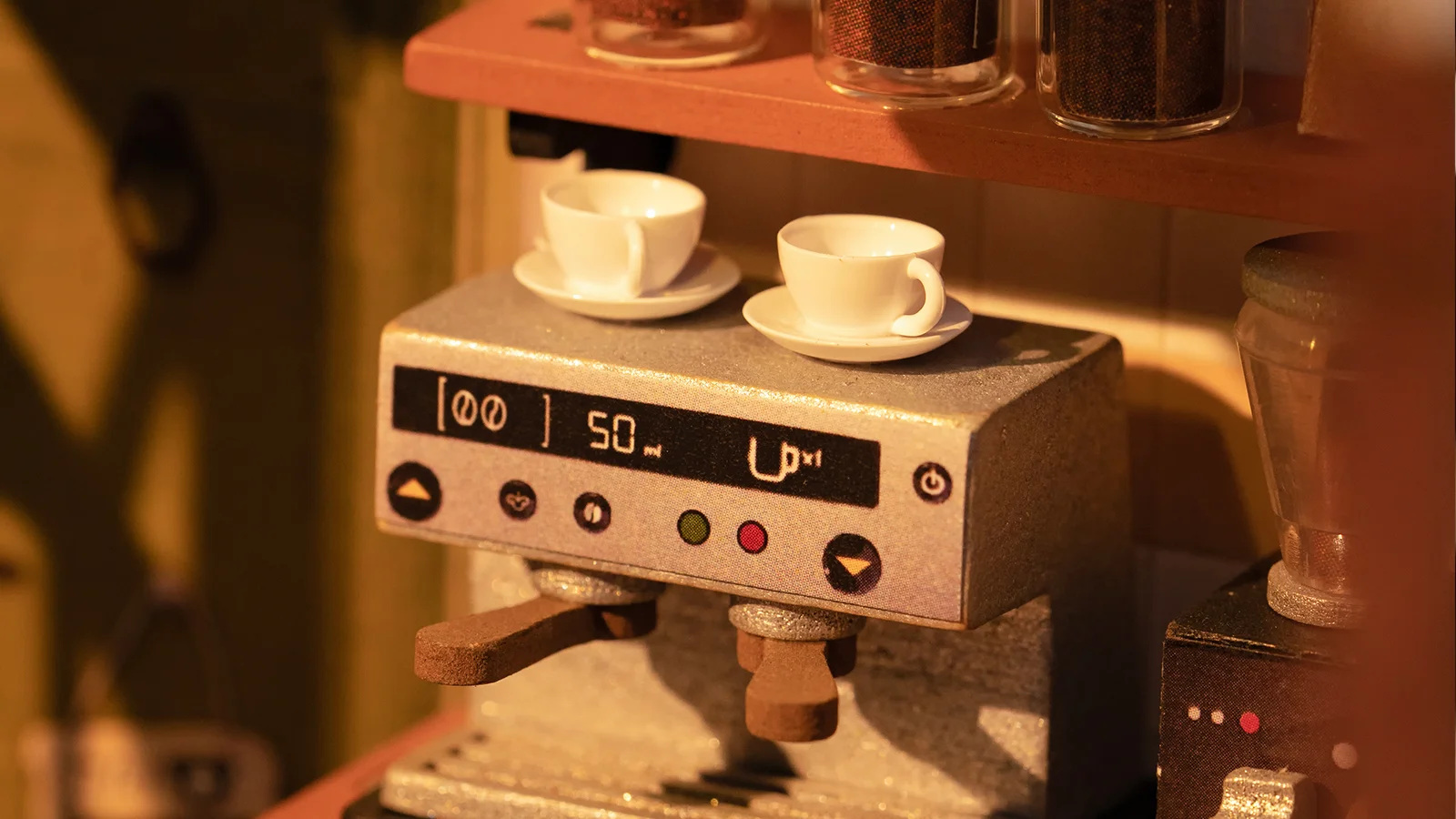 Each one is a testament to the attention to detail that defines this miniature masterpiece.
As you step into the kitchen area, you'll discover a world of professional-grade equipment, from the coffee grinder to the coffee maker to the interactive grinding kettle, adding an authentic touch to your coffee-making adventures. The openable cabinet doors reveal a space to store your tiny treasures, such as the array of lifelike cups, plates, bottles, and jars.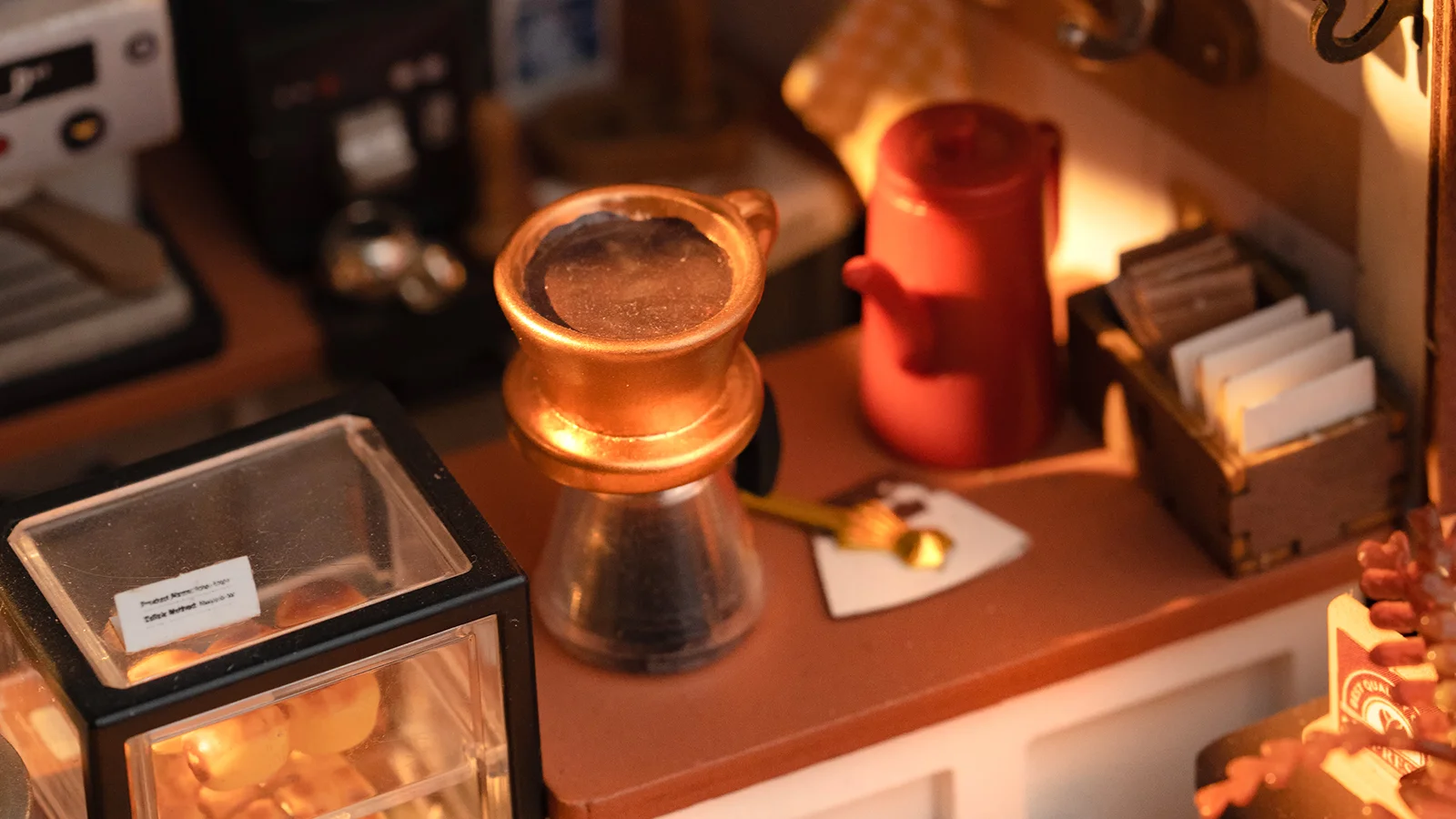 Every moment feels like a serene escape.
As you venture into the outdoor area, you can sit at the elegant table and chairs and indulge in highly realistic bread paired with a cup of coffee, perfectly capturing the essence of a satisfying treat. And let the vintage fence, green plants, and roses transport you to a complete and harmonious atmosphere.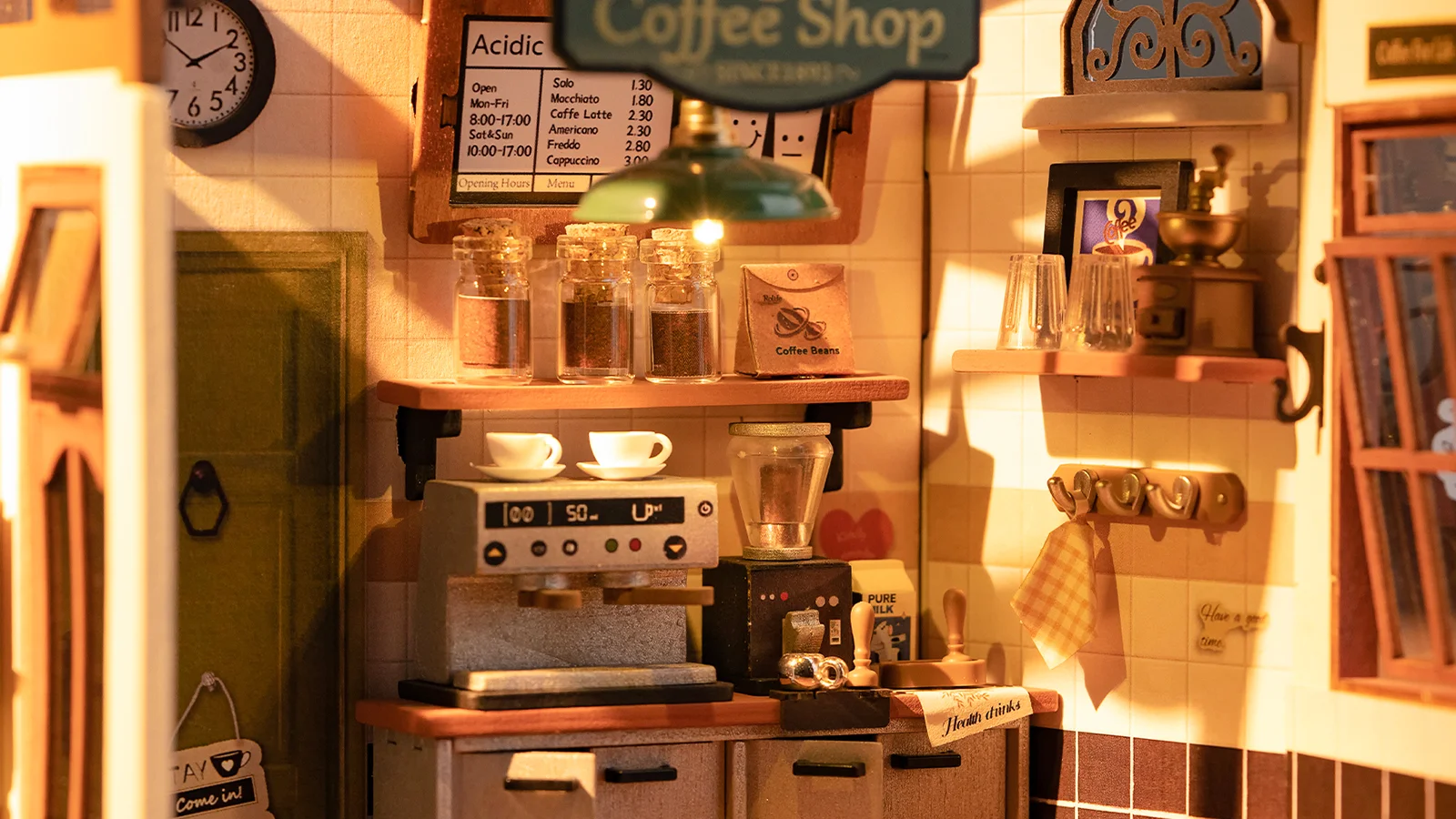 Make and Savor coffee together during joyful moments
The lighting effect casts a warm glow upon the scene, with a green lampshade that adds a touch of whimsy and visual appeal.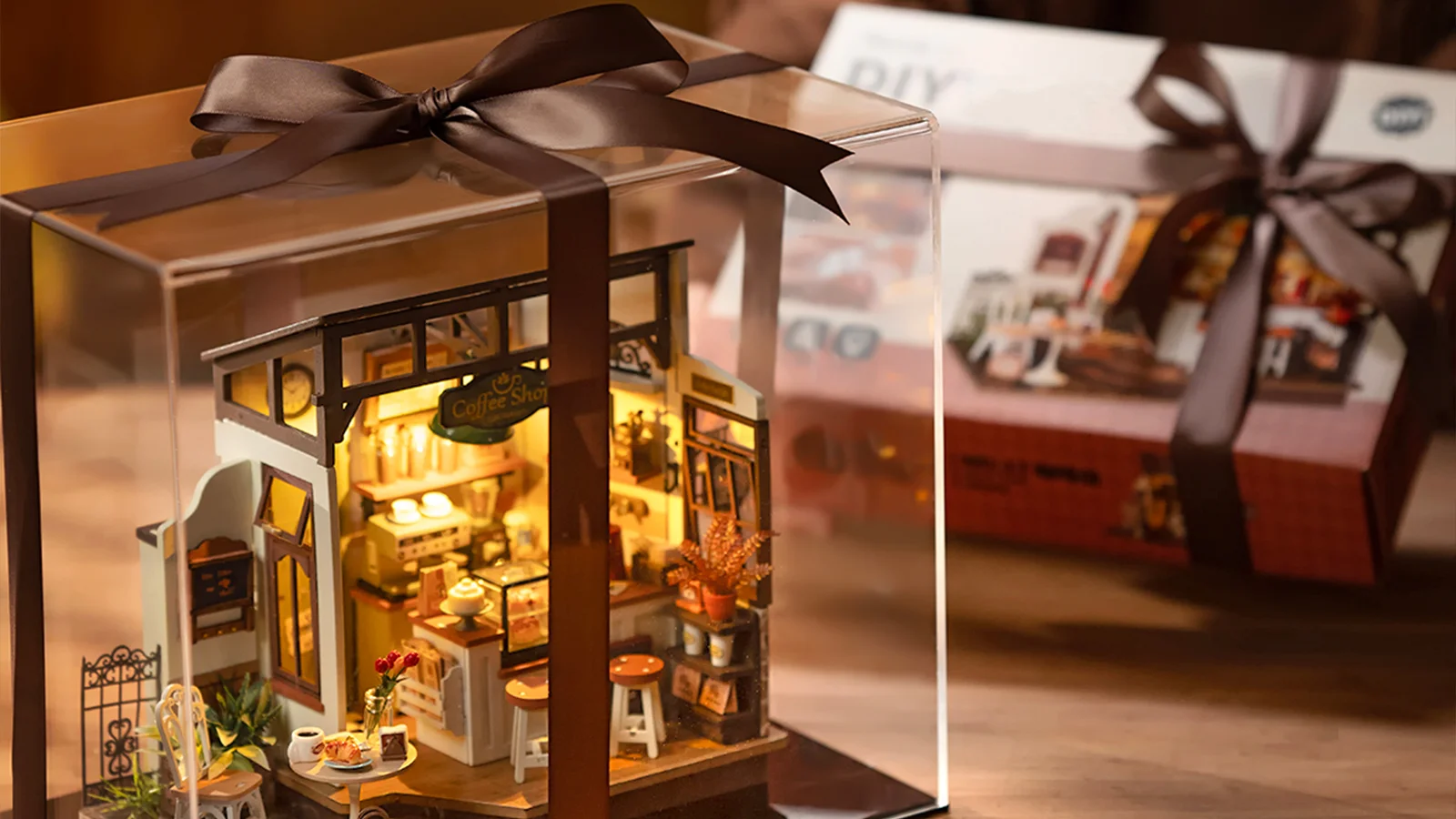 Celebrating Moments: The Ultimate Gift Dollhouse Model
And let's not forget the exquisite packaging that elevates it to a truly remarkable gift, capturing the recipient's heart with its impeccable attention to detail.
Specification
| | |
| --- | --- |
| Pieces | 183 |
| Assembly Time | 6H |
| Scale | 1:20 |
| Assembled Size | H:7.7"(19.5cm) W:6"(15cm) D:9.8"(25cm) |
Check our DIY Miniature House collection for more similar products!