Register to receive a notification when this item is back in stock
Description
Discover the magical realm with our Magic House DIY Book Nook, a secret and enchanting alleyway manifested in a unique 3D wooden puzzle. Whether you're a DIY enthusiast seeking a challenging project, a magic aficionado wanting to expand your mystical world, or an educational toy lover eager to build and learn, this magic house is the perfect creation for you.
While assembling this captivating book nook, you're not just creating an extraordinary bookshelf insert and unique home decoration, but also developing valuable skills such as problem-solving, hand-eye coordination, and creativity. Its charm magnifies in the darkness, the warm lights casting a mystical glow, creating an aesthetic that is both mesmerizing and inspiring. It's the ultimate hands-on gift for various occasions - birthdays, holidays, or simply a surprise to your loved ones.
This Magic House book nook is a crowning touch to your magic-themed DIY bookshelf. It will beautifully blend with your mystical decorations, cherished hardbound copies of magical novels, and intriguing multiverse books. The kit arrives beautifully pre-colored, but some parts may call for your artistic touch. We welcome your creative paint ideas and are thrilled to see your exceptional masterpiece!
*Note: Due to customs policy, glue and battery (AAA*3) may not be included in the package. Glue: you could use eco-glue, wood glue, or strong glue.
The magic shop is one of the detailed and intricate features of this book nook shelf insert. It is designed to look like a whimsical and mystical store, with various magical items on display.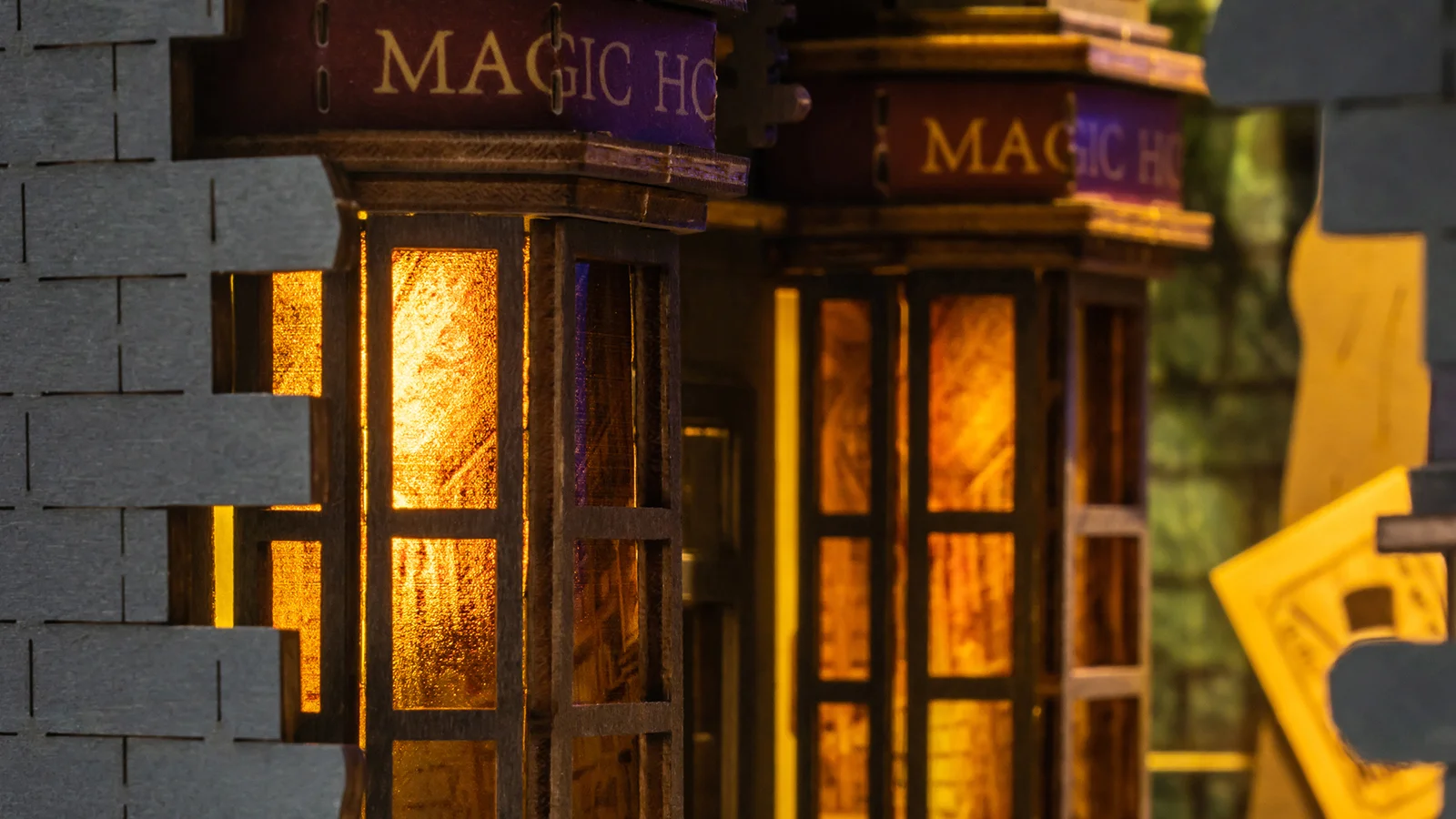 When the LED lights in the Rolife Magic House are turned on, they create a warm and cozy ambiance within the book nook kit.adding to its charm and aesthetic appeal.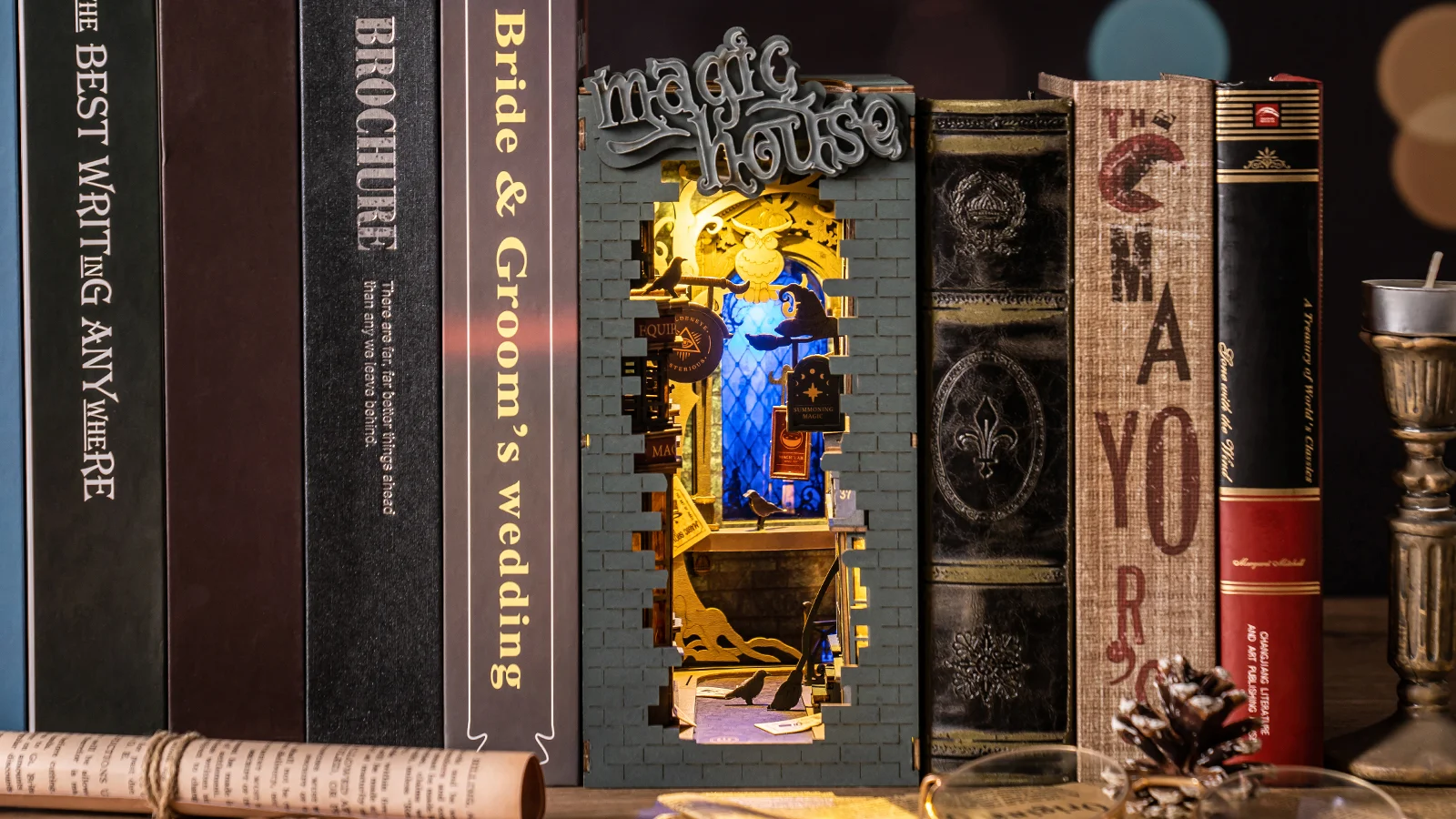 Creative acrylic doorways guide you to the entrance of the magical world - right here, pick a corner of the street and secretly practice magic and spells.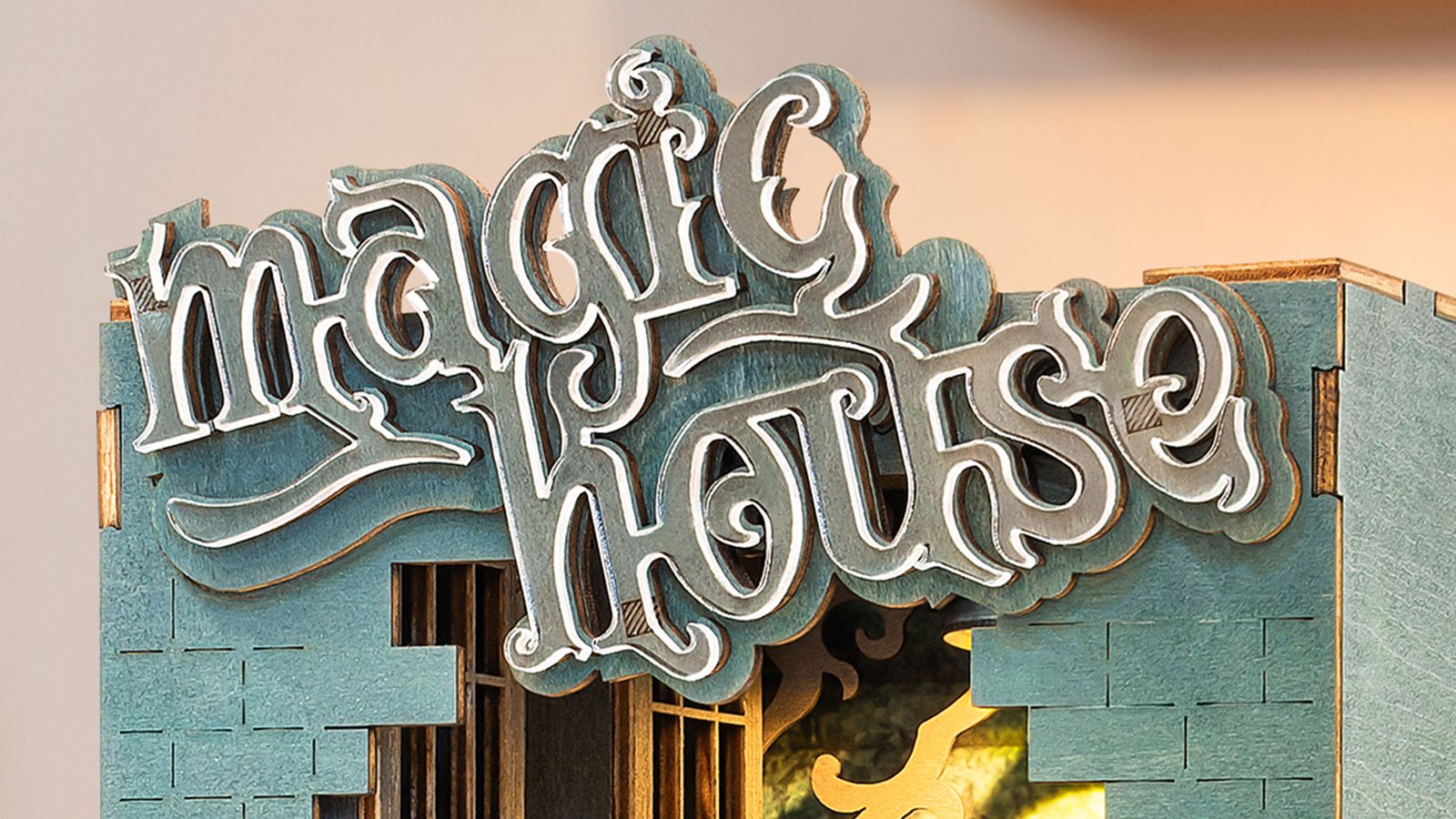 The lights are flashing and the neighborhood that sells magic must be ahead. Using UV printed PET sheets as glass both enriches the interior scene and softens the light.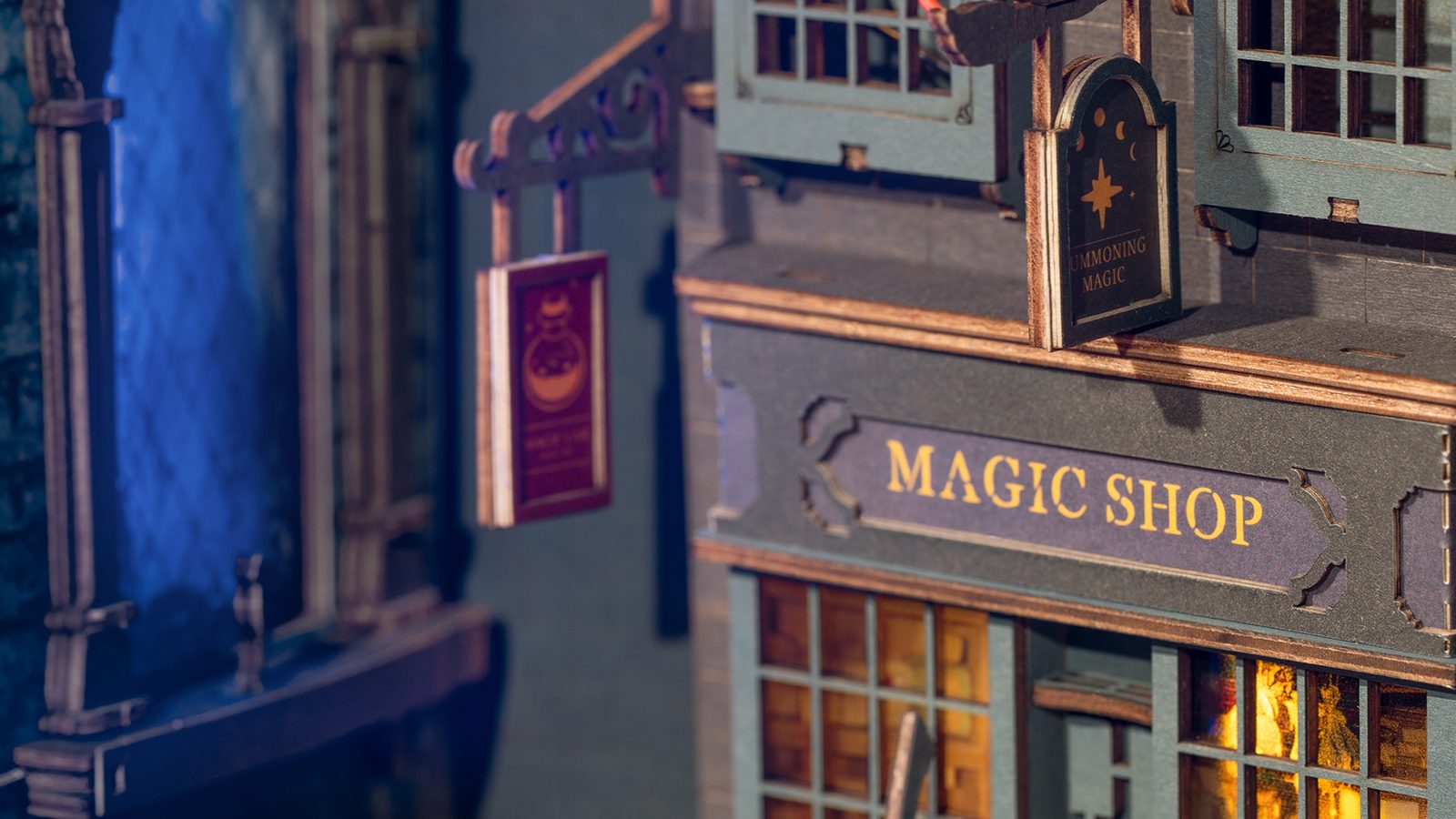 It makes a unique and creative gift that is perfect for anyone who appreciates charming and whimsical decor or who enjoys DIY projects. It is sure to bring joy and delight to the recipient.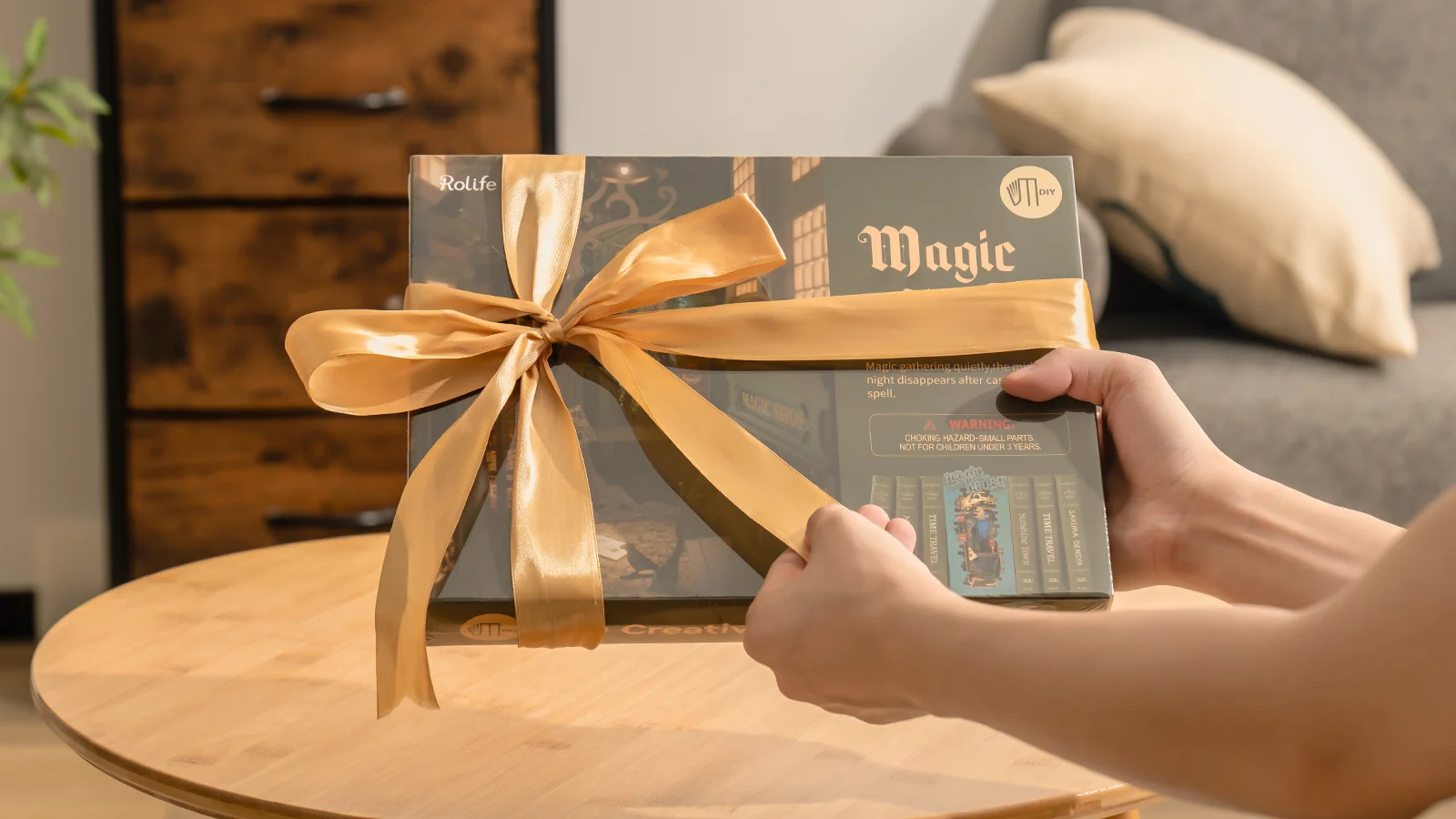 Specification
| | |
| --- | --- |
| Pieces | 216 |
| Assembly Time | 4h |
| Difficulty Level | ★★★★ |
| Assembled Size | H:7.1"(18cm) W:4.3"(11cm) D:9.4"(24cm) |
Check our DIY Miniature House collection for more similar products!