Register to receive a notification when this item is back in stock
Description
Experience the serene bliss of a picturesque day encapsulated within the Garden House, a miniature creation inspired by soft sunlight and flourishing blossoms. Much like the rich aroma from a fresh pot of coffee, our Holiday Garden House invites you to savour life's simple pleasures. Throwing open its doors and windows, it welcomes nature's embrace, filling the space with the scent of flowers and the glow of sunbeams. The meticulously detailed decorations recreate the room's romantic atmosphere, echoing cherished memories.
Exuding a sense of relaxation and comfort, the Holiday Garden House celebrates rustic elegance, adorned with French pastoral hues. The nostalgia-inducing arched door and dim ribbed glass add an element of romance, while the retro-style staircase, with its intricate bends, enhances the exquisite charm of this space.
Invite the Holiday Garden House into your life and embrace the unfolding romance and tranquility!
*Note: Due to customs policy, glue and battery(AAA*2) may not be included in the package.Glue: you could use eco-glue, wood glue, or strong glue.
Stepping into this garden house is akin to crossing into another realm. Greeted by an elegant French archway, the glass casts hues of ethereal colors, akin to a vibrant tapestry of art, intensifying the romantic ambience to unparalleled heights. Nestled within this floral abode, you'll uncover a singular oak rocking chair, its design echoing the rustic minimalism of medieval craftsmanship.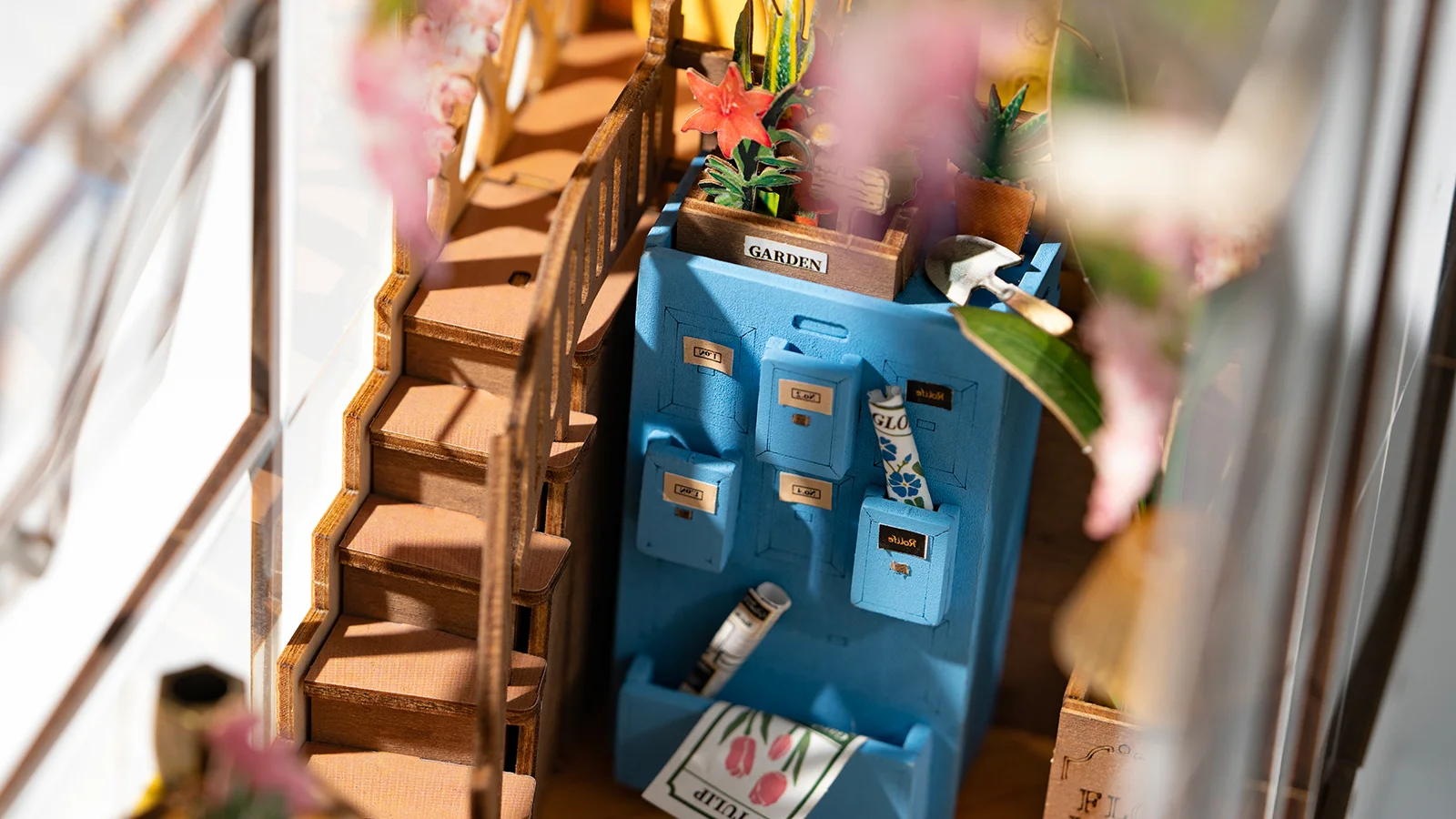 Indulge in the beauty of 14 different types of flowers and embrace your green thumb with the inclusion of a variety of tiny plant tools.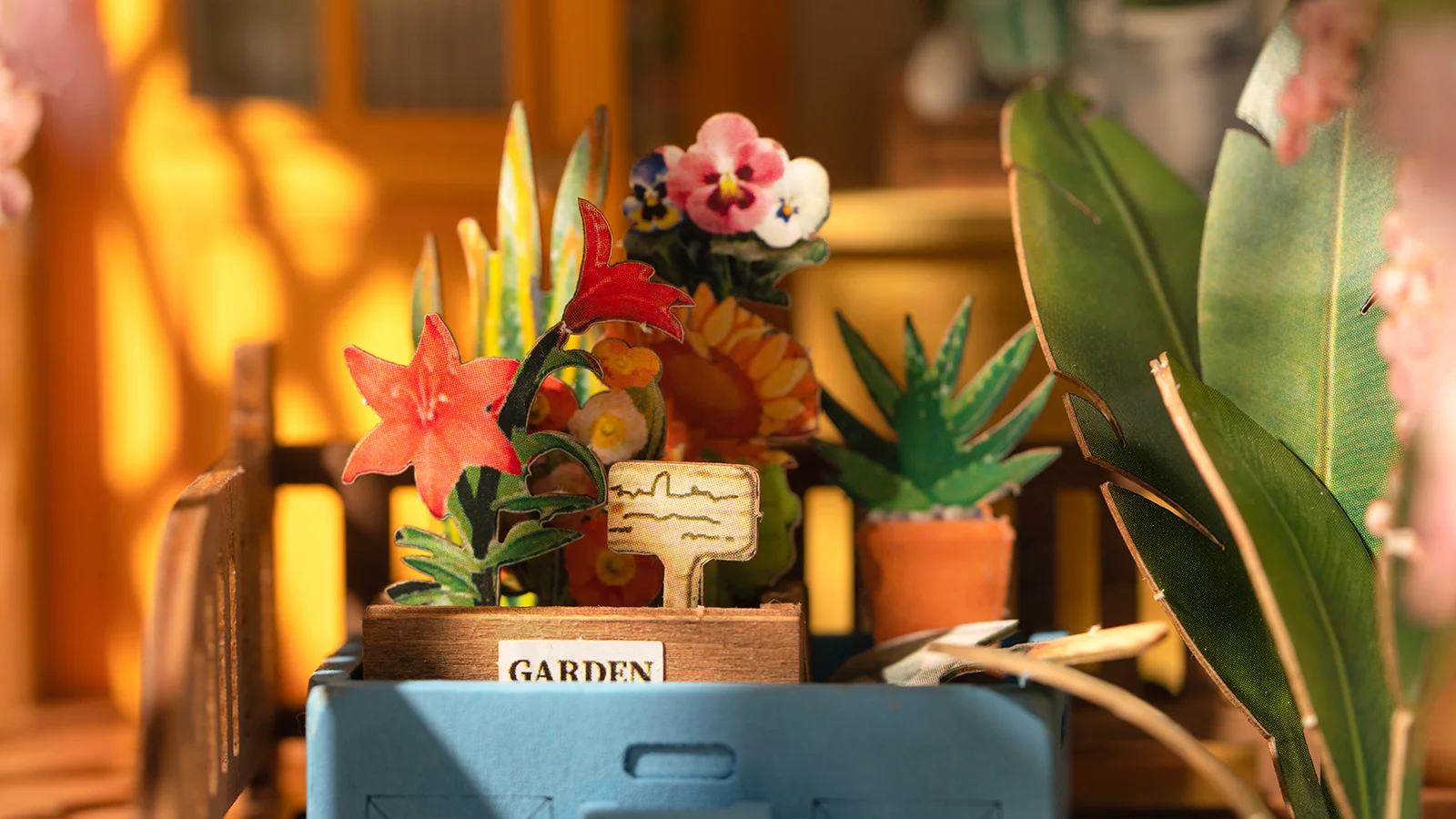 The assembly process of the Holiday Garden House is a joyous journey. The easier difficulty level ensures a fun and engaging experience, while the mortise and tenon process guarantees a closely connected and stable structure. The side window can be opened with a simple push outwards. Surrounding the windows is a beautiful wisteria vine, adding a touch of natural elegance to the space. The touch-sensitive night lights softly illuminate the surroundings.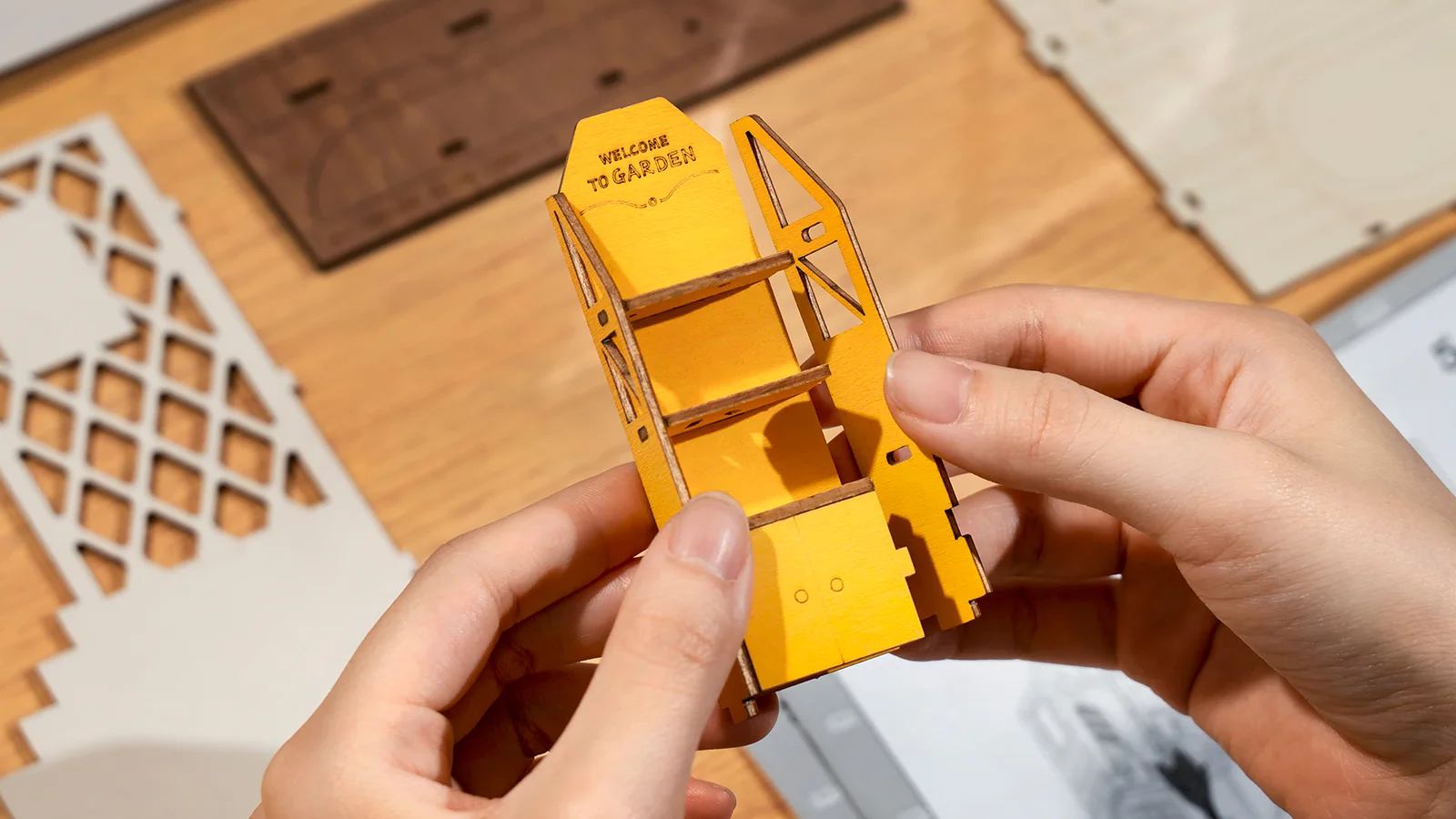 The Holiday Garden House book nook has been intricately designed for swift assembly, enabling you to dive into its mesmerising aura in just under five hours. With the feature of touch-sensitive lighting, you can effortlessly intensify the environment, injecting vibrancy into this spellbinding niche. The soft, ambient light has been enhanced to craft a snug and calming haven, all while the battery box remains discreetly tucked away to maintain the continuous charm and aesthetic allure.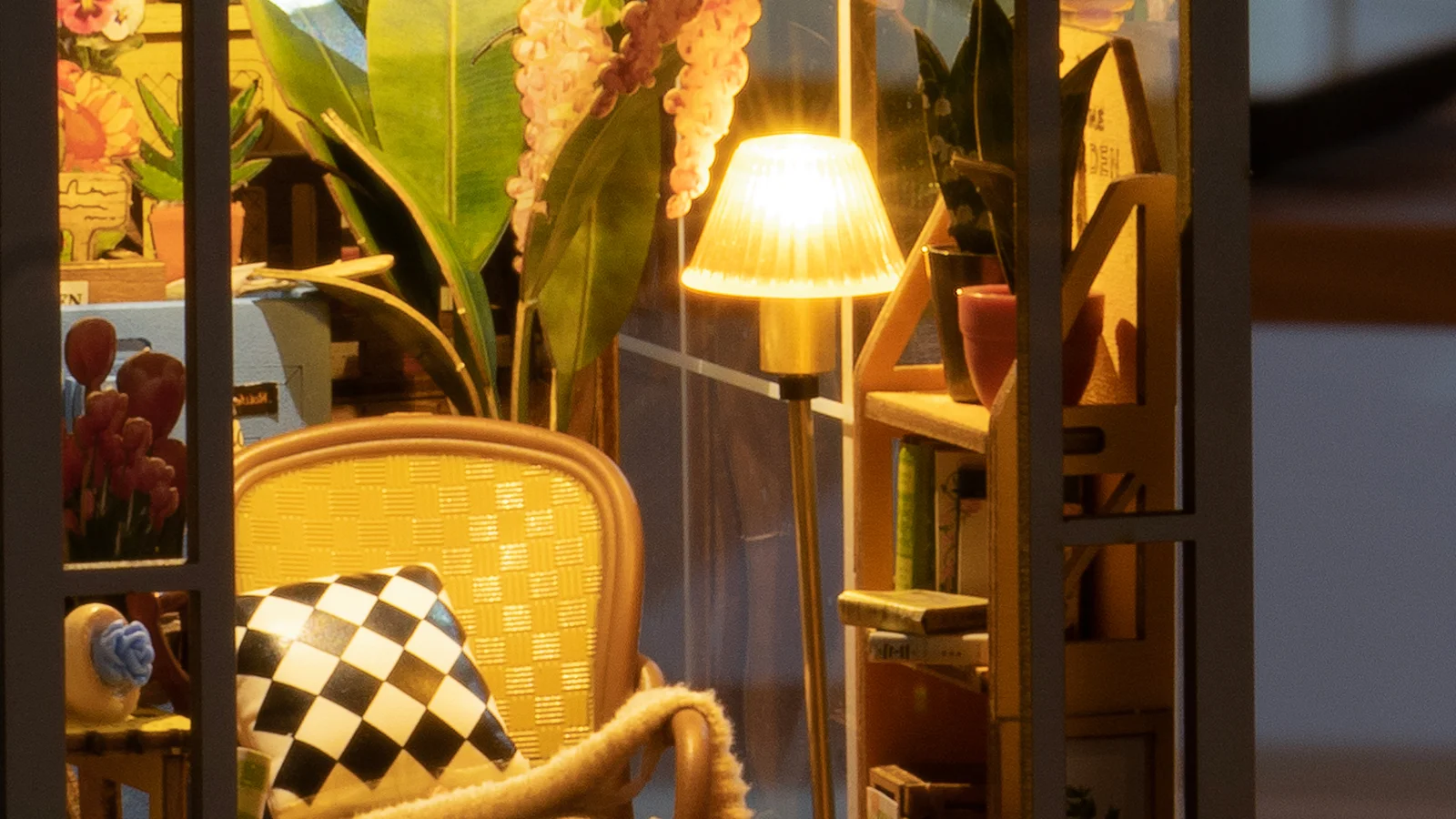 It makes a unique and creative gift perfect for anyone who appreciates charming and whimsical decor or enjoys DIY projects. It is sure to bring joy and delight to the recipient.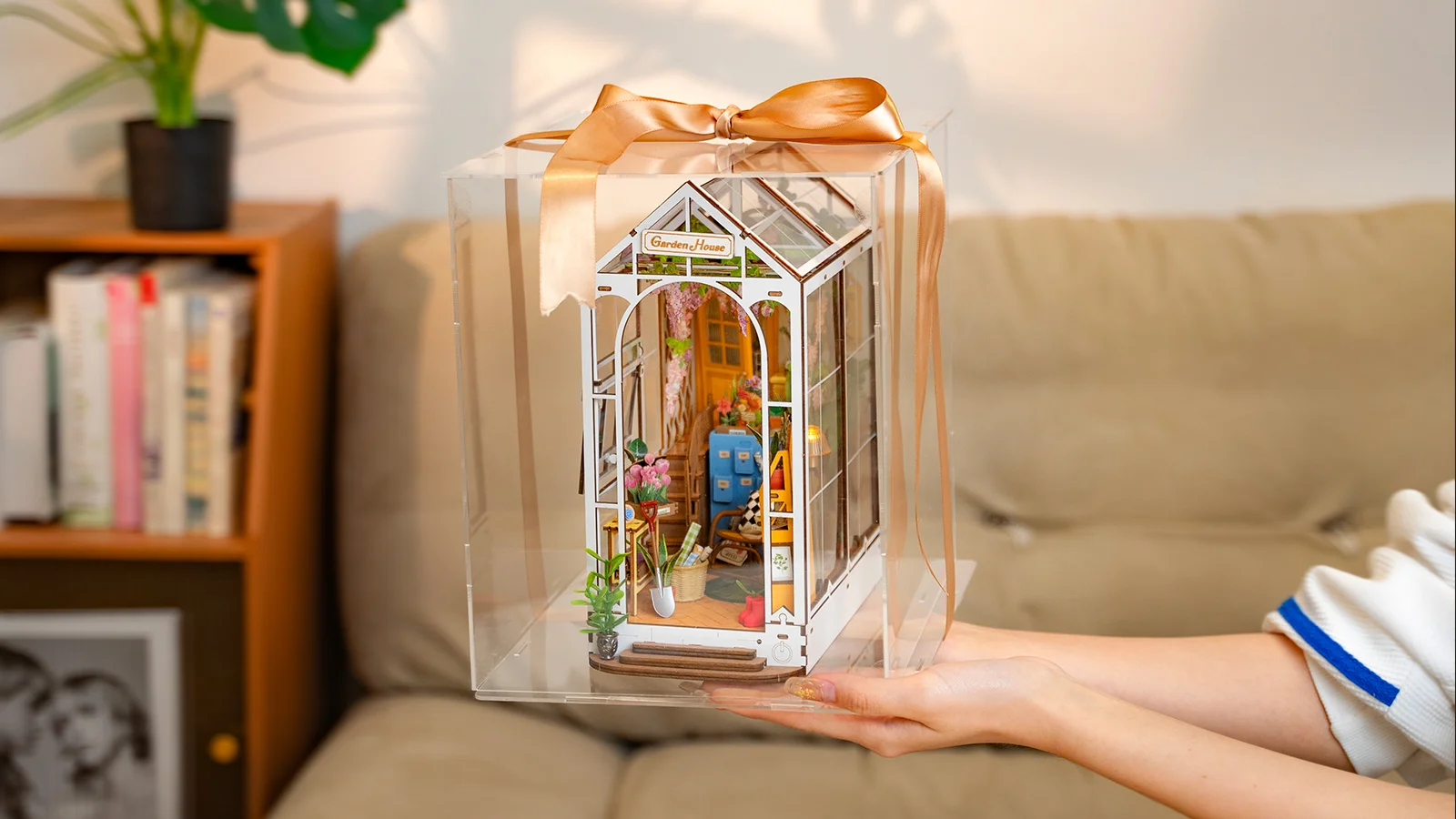 Specification
| | |
| --- | --- |
| Pieces | 176 |
| Assembly Time | 5H |
| Difficulty Level | ★★★★ |
| Assembled Size | H:9.5"(24.1cm) W:4.3"(11cm) D:8"(20.3cm) |
Check our DIY Miniature House collection for more similar products!